Flowers for everyday occasions
Enjoy free delivery with every purchase
Shop Now
Daily blooms from $44.90 onwards
Enjoy free delivery with every purchase
SEND YOUR LOVE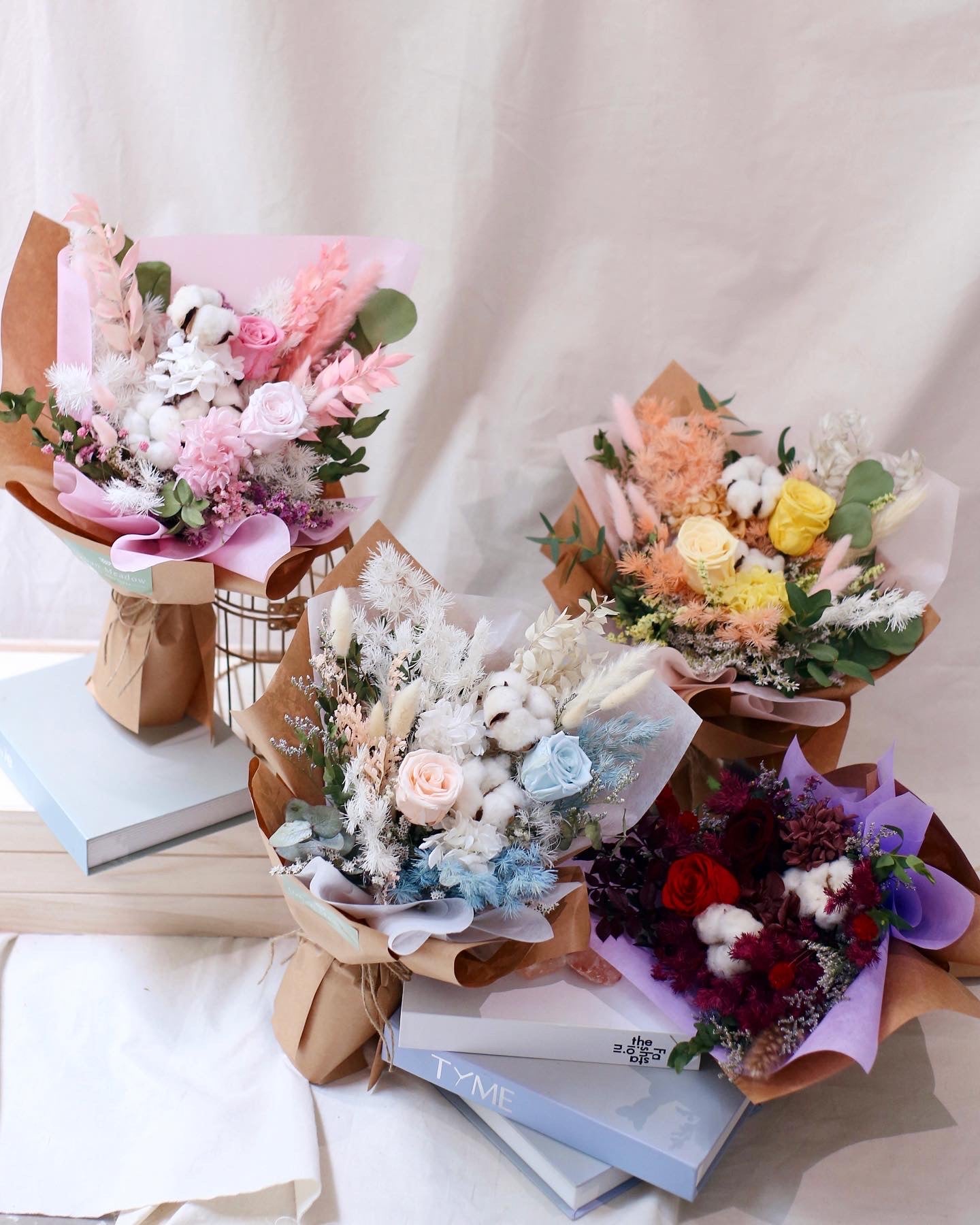 Preserved & Dried Collection
Enjoy free delivery with every purchase
Shop Now
Each day, we design a different SURPRISE bunch of market-fresh flowers. Simply choose a size and colour for your sweet surprise!
Here are some of recent meadows, to give you an idea of the size and style. Yours may not look exactly like these ones, but they'll be just as beautiful!
All flowers come with a personalised message card, care instructions, and plenty of water to keep them nice and fresh. They also come in a neat carrier so they are easy to carry.
Subscriptions
now $266.00 $285.00
6% off
Preserved & Dried Collection
from $68.00 $75.00
9% off
Best Flower Subscription In Singapore
Brighten your space, surprise someone you love, or treat yourself with our stunning flower subscription service. Designed to delight anyone, our affordable plans are sure to bring a smile to your face.
Check out our floral subscription plans and indulge in the beauty of our flowers today!
Read more

How Our Flower Subscription Service Works

Step 1: Pick A Size

Choose from our small, medium, or large bouquets, each lovingly handcrafted by our florists. Each bouquet is designed to be different; this means that every bouquet will be a surprise!

Step 2: Select Your Delivery Schedule

Pick a frequency that works for you; choose between our weekly or fortnightly floral subscription plans and pick from 3 different time slots.

Step 3: Admire Your Flowers

Sit back, relax, and leave the rest to us! Each bouquet is arranged by hand and features only the freshest seasonal flowers and foliage.

Why Choose Our Flower Subscription Service?

Affordable Bouquets

When choosing a flower subscription service in Singapore, we suggest picking an experienced florist that uses only the highest quality flowers and foliage.

Here at Urban Meadow Flowers, we tick all of those boxes!

Our skilled and creative florists are passionate about creating stunning floral arrangements that you'll definitely love. Plus, we use only the finest florals and foliage in our bouquets!

High-Quality Farm-Fresh Flowers

Our team of artisan florists work with the only the freshest flowers and foliage. You can rest assured knowing that your bouquets will arrive in the best, most pristine condition.

Free Islandwide Flower Subscription Delivery

We offer free delivery to most places in Singapore except for restricted areas such as the airport or military zones.

Please check with us to make sure that your delivery address can be reached.

Frequently Asked Questions About Our Flower Subscription Service

How long are your flower subscription plans?

We offer monthly flower subscription plans that are delivered weekly or bi-weekly.

When will my flower subscription be delivered?

Your flowers will arrive within the time slot selected during checkout.

There are currently 3 time slots available:
10am - 2pm (N.A. on Mondays)
2pm - 6pm (N.A. on Sundays)
6pm - 10pm (N.A. on PH & Weekends)


How can I make my flowers last longer?

We recommend:
Changing the water in the vase once every few days
Replacing the water in the vase once every few days
Cleaning the vase every few days

You may refer to our FAQ page for detailed instructions on how to care for your flowers.

How do I cancel or make changes to my flower subscription plan?

Simply contact us at admin@urbanmeadowflowers.com.sg with your order number and we'll get back to you as soon as we can.